bsmart has partnered with Crave to bring you an exciting benefit that will provide you with the ultimate dining experience.
The offer to bsmart members is: Buy two meals and 2 drinks & get 80% back on your second most expensive meal, at over 1000 "Crave 2-4-1 Dining" restaurants countrywide. (Max discount refunded - R95)*

So how does it work?
Search through the Crave "2-4-1 Dining" restaurant list and select your restaurant
Request an authorisation code by dialling *120*2582# on your mobile
Go enjoy your time out with family and friends
Come back to this page, click "Claim" below and follow the easy steps
Anything important to note?
There is no cost to bsmart members for using this benefit
You must get the authorisation code before you go to the restaurant.
You can pay with any accepted payment method. If the restaurant accepts the bsmart card, great. Otherwise you can pay with your credit card or cash. Whatever works best for you.
There is no limit to the number of times you can use this. You can use it every day if you want to.
The claim amount is not paid to you directly, but to your bsmart account. All claims between the 1st and 31st of a month will be loaded to your bsmart account by the 6th of the following month.
Every time you claim, Crave 2-4-1 will contribute to the JAM initiative, which helps feed a child for a day.
Please bookmark this page as a favourite on your browser so that you can return here any time you want.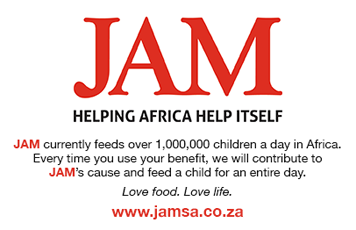 Every time you use your bsmart Crave 2-4-1 Dining benefit, we feed a child for an entire day through Joint Aid Management (http://jamsa.co.za).